What We Do
Catholic Courses for Trinity Western Degrees
Catholic Pacific College teaches Catholic theology, philosophy, history, and literature courses for Trinity Western University students. That means CPC students choose from the full array of program options that TWU has to offer. Use the button below to see all the TWU programs available. And, view the complete list of CPC Courses in the sections below. (The buttons navigate to TWU's website, away from CPC's website)
TWU Academic Calendar
Upcoming Course Schedule
This is the timetable of courses and professors for the next semester(s).
All CPC Courses
Below are two sections of courses: Catholic Formation Track (CFT) and Electives. Any student can take elective courses, but anyone hoping to take the CFT in place of the TWU core must register for the CFT through our Admissions Counsellor, John Doromal. However, any non-CFT student can take CFT courses as Electives. Find out more about the CFT with the appropriate button below. Register for the CFT with the other button below. Not all courses are offered each semester. Students must consult the upcoming course schedule listed above.
Learn more about the CFT
Contact our Admissions Counsellor
Catholic Formation Track Courses
Download Catholic Formation Track Checklist (PDF)
About the Catholic Formation Track
Download Catholic Formation Track Checklist (PDF)
Watch "Introduction to CPC and the CFT" video
All CFT Courses
TWU Liberal Arts Core & the CFT
At Trinity Western University you can earn a degree in one of more than 48 academic programs while receiving a faithful Catholic formation at Catholic Pacific College, formation that cannot be rivalled anywhere in the Northwest. TWU is a liberal arts university in which every student receives more than mere training in a particular career path. Their liberal arts core curriculum is aimed at forming well-rounded individuals by providing a dynamic range of subjects from art & culture to humanities and sciences. Imagine, then, attending this amazing university plus being formed in and by the Catholic intellectual tradition. At CPC, you can be. TWU students can take most of the core courses through Catholic Pacific College's new Catholic Formation Track (CFT) of the TWU Core.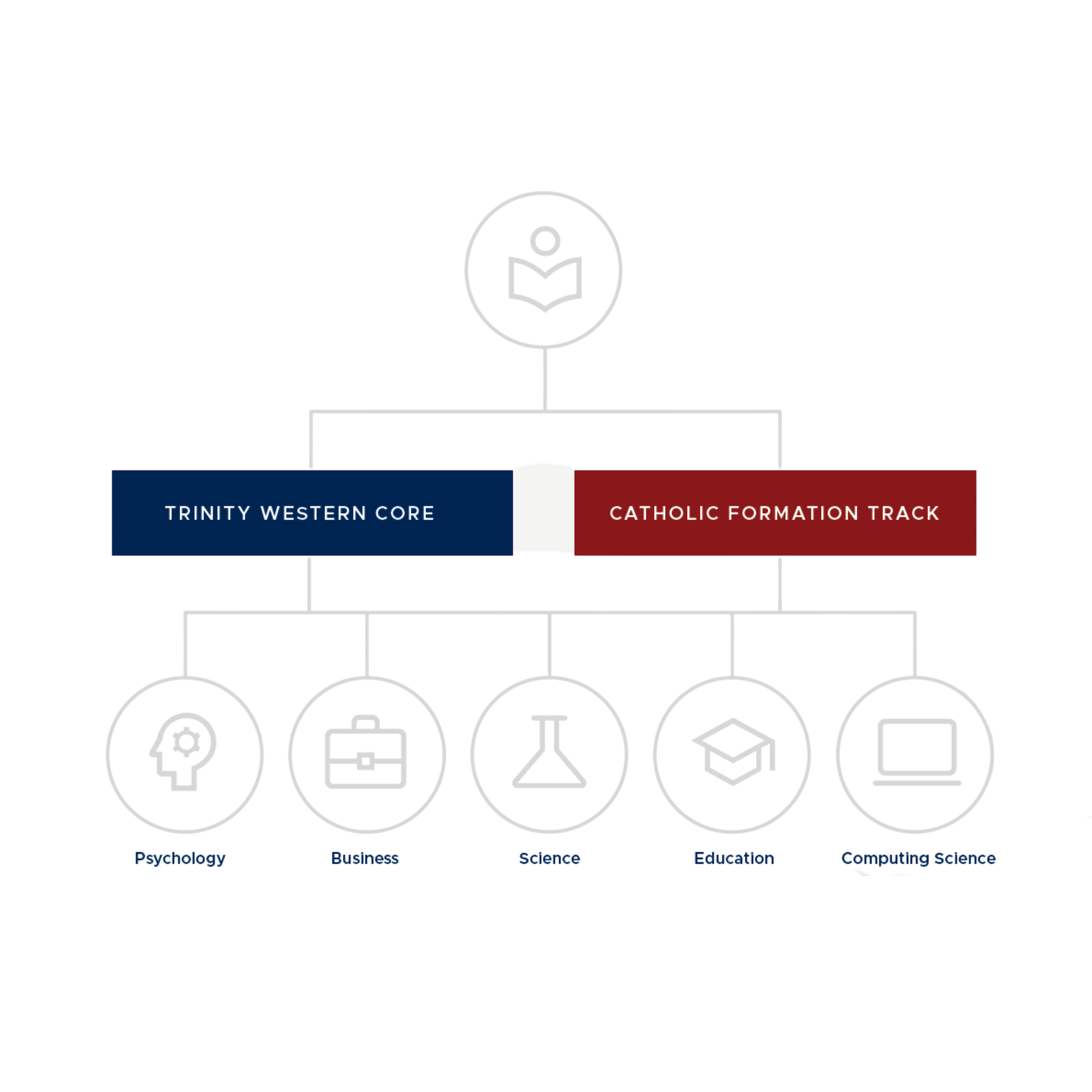 Receive a robust Catholic formation
The Catholic Formation Track is comprised of 11 fundamental courses in the areas of academic writing (2 courses), Catholic theology (3 courses), virtue ethics, Catholic Church history, liturgy and sacraments, Catholic social teaching, beauty and sacred art, and Latin. It is a formative track designed to expose students to the richness of the Catholic intellectual tradition. The CFT directly engages with fundamental questions that pertain to all aspects of life, enabling students to make informed choices about faith, relationships, vocation, and careers.
Registering for the CFT
In order to receive this unique opportunity for solid Catholic formation, students need to be clear about their decision. Anyone interested in taking the Catholic Formation Track must either indicate on their application that they are interested or speak with the CPC Admissions Counsellor. It is important to understand that, once the Catholic Formation Track for the TWU Core is chosen, students cannot leave that track. They must complete all* of the indicated courses within that track to get credit for completing TWU's core requirements.
When you have gone through the TWU admissions process, been accepted, and made your deposit, you must fill out our CFT registration form to be officially signed up for the CFT. You are not in the CFT if you have not completed the form. Only our Admissions Counsellor, John Doromal can provide you with a link to the form.

*Contact Academic Dean to coordinate your academic program with the CFT
How to Choose CFT Courses
Choosing your CFT courses is easy. The CFT courses can be found on the same registration page as all of the TWU courses, and it's simply a matter of looking for the CFT course number (which will include a 'cp' in it) and choosing. However, we highly recommend that you contact our Admissions Counsellor, John Doromal to help you with the process. Click the button below to book an appointment with John today. It's that easy.
Book an Appointment with a CPC Admissions Counsellor
More CFT Details
Taking CFT Courses as Electives
These new courses are amazing, and we understand that students who have already begun their Core curriculum under the normal TWU core may want to take some of them. While they cannot take them and get credit as core courses, these students may still take the new courses as elective courses.
Meet our Faculty.
CPC prides itself in its high-calibre, faithful professors.
CPC Evening Classes
We're trying something new this fall—evening classes (non-accredited)
Our first course offering is a 4-session course on the Theology of the Body

Cost: $100 for all four sessions (you can join late, but the cost is not pro-rated, though we can provide you videos for the missed sessions).
Do you want to explore more on Theology of the Body, led by local experts? Then this four-part course led by professors from Catholic Pacific College is for you!
What does it mean to be a human person, one who is embodied and lives within time and space? How is the human body a path unto God? In what ways do we, as sexed creatures, noun and verb, participate in the life of God?
St. John Paul II's profound theological anthropology set out in his Wednesday addresses, famously known as a theology of the body, provides a response to these questions, opening a door into the great mystery of being a man or woman made in the image of God. Join Dr. Andrew Kaethler (Jeremy Keong - November 2) and put out into the deep (duc in altum) with St. John Paul II's profound vision of the human person.
Catholic Studies Minor
What is an academic minor?
An academic minor is a field of study that is secondary to a major degree. Rather than pursuing a double major - which is generally more expensive and takes longer to finish - students can expand their range of knowledge with a minor. A minor can be focused on an area of personal interest that may not be included in the program of the major. Also, it may be a field of study that expands the scope of their major; for example, psychology majors may take religious studies in order to practice within a faith community.
What is a Catholic Studies Minor?
The Catholic Studies Minor is granted by the Christianity and Culture program at TWU but is administered and taught by Catholic Pacific College professors. The minor is comprised of theology and philosophy courses that are designed to expose students to the richness of the Catholic intellectual tradition. In turn, the skills and knowledge gained from these courses complement the programs that Trinity Western University provides.
Why pursue a minor?
In general, a minor has both personal and career benefits. Regardless of the reason behind taking the minor, it is additional education that will enrich your life and add to your uniqueness. A Catholic Studies minor particularly excels in this regard since it directly engages with fundamental questions that pertain to all aspects of life, enabling students to make informed choices about faith, relationships, vocation, and careers.

Further, the minor will boost the students' CV/resume. In order to add depth and insight to organizations employers often look for persons with diverse experience and education. Well-rounded individuals have potential to think outside of the box, a critical asset in an ever-changing marketplace. In addition, a graduate with a Catholic Studies minor is particularly well-suited for work within Catholic institutions (e.g., Catholic education).
The Details of the Catholic Studies Minor
See official TWU Catholic Studies Minor Checklist
A total of 24 s.h. of credit, including a minimum of 12 s.h. of upper-level credit is required to complete a Minor. A minimum overall (cumulative) GPA of 2.00 is required for graduation.

In order to be eligible for graduation you must complete an Application for Graduation via the Student Portal and submit a completed checklist to the Office of the Registrar by April 30 of the year prior to your completion (there is no fee to apply for graduation). Once your complete application has been received, a degree audit will be completed for you. This audit will confirm which courses are still outstanding in order for you to complete your degree.
List of Required Courses for Catholic Studies Minor
The Catholic Studies Minor course requirement is currently being revised. Please contact CPC's Academic Dean for an accurate list of acceptable courses. A full list of CPC courses can be found here: catholicpacific.ca/allcourses.
CPC Video Collection
Check out our video collection which includes our CPC³ Public Lecture Series, our apologetics series, "Dialoguing Toward Truth," and our introduction videos. You can also find all of our videos on our Youtube channel: @catholicpacific
CPC³ Public Lecture Series
Dialoguing Toward Truth (CPC Apologetics Series)